PRE-PLANNED
SHELVING PROGRAM
Choose from our flexible beer cooler shelving packages that are designed to fit perfectly in five of the most common walk-in cooler sizes.

COOLER CONCEPTS STRIVES TO MAKE LIFE EASIER FOR CUSTOMERS AND CONSULTANTS ALIKE
 Our Pre-Planned Beer Cooler Shelving Program cuts down on both time and money when compared to a design from scratch custom project.
Whether you're an owner adding a new beer cooler to your existing location or a consultant starting a project that's specifically related to keg storage of a beer cooler, you may decide to select a pre-planned beer cooler – usually referred to in the industry as "quick-ship." Cooler manufacturers provide these coolers in standardized sizes, which can ship in a fraction of the time and can save a small percentage of the cost over a completely custom walk-in cooler.
To help make understanding what these custom coolers will support, Cooler Concepts came up with the idea of the Pre-Planned Beer Cooler Shelving Program. This program takes these quick ship walk-in cooler dimensions and calculates the exact storage capacity for all your beverage products and draft beer systems. Using our custom beer cooler shelving, we came up with multiple shelving packages to fit all five of the standardized walk-in cooler sizes (8×8, 8×10, 8×12, 10×10, and 10×12.) Each cooler size also comes in three variations for flexibility: (a) kegs only storage, (b) mostly kegs and some cases, and (c) some kegs, but mostly cases.
Using the chart below, now you can pick the proper cooler size to fit the amount of beer needed for one week's worth of usage.
Note: Quick-ship coolers may not always be the best choice to maximize the storage in the cooler's footprint. You should consult with your local Cooler Concepts representative or the factory directly for swift analysis of choices for additional capacities and footprints.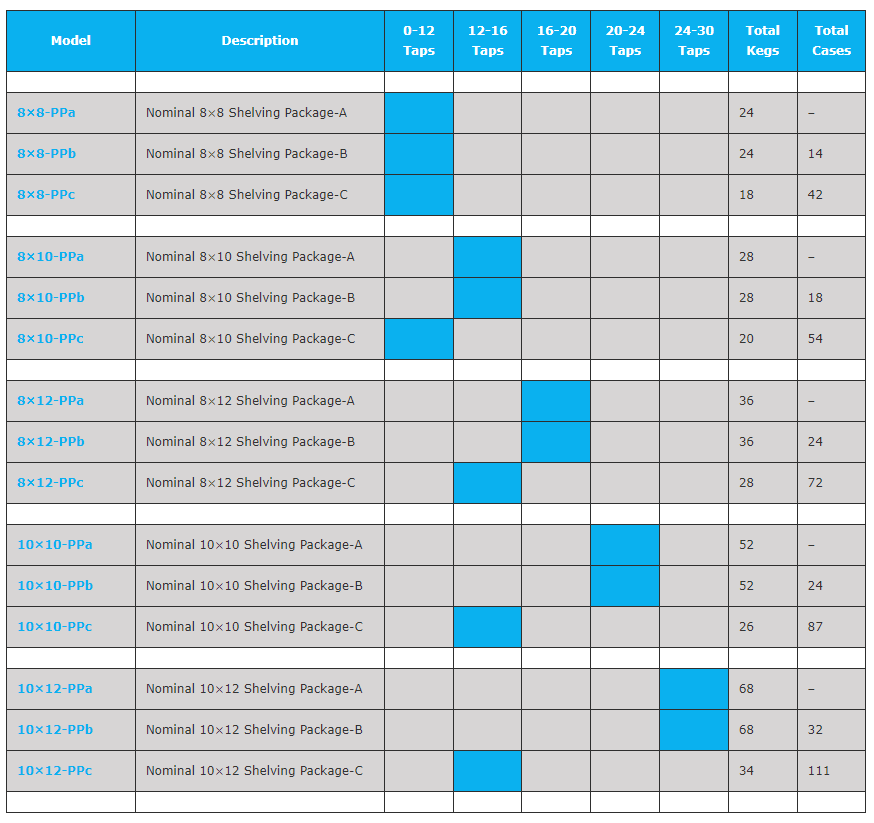 SELECT YOUR COOLER SIZE
CHOOSE FROM THE AVAILABLE PACKAGES FOR EACH QUICK-SHIP COOLER SIZE Have a Project in Mind?
Reach Out To Our Walk-In Beer Cooler Experts Today! Sign up for the Cooler Concepts Newsletter